---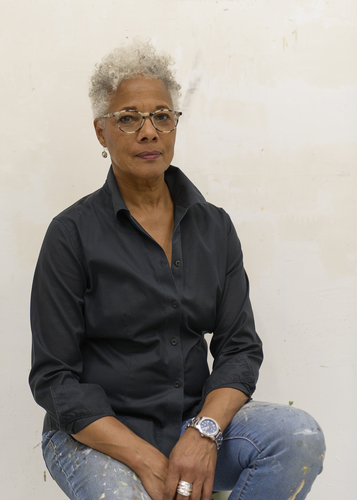 photo: Janet L. Pritchard
---
I like to deal with fragments. Because no matter what the thought would be if it were fully worked out, it wouldn't be as good as the suggestion of a thought that the space gives you. Nothing fully worked out could be so arresting, spooky.
— Anne Carson
Deborah Dancy is a multi-media abstract artist, whose paintings, drawings, digital photography and sculptural objects examine and mine abstraction's potential to move across mediums and materials exploring subtly and confrontation. There is an undercurrent of nuance and tension that mark her work, as if something is poised to happen. Paintings and drawings are constructed by tangential linear demarcations and erasures; abutting shapes and colors are inserted to provoke and entice, yet disrupt. From densely painted fields to minimally suggested forms, Dancy's work operates in the recognition that moments, meanderings, accidents and process operate best when beautiful and disconcerting are combined. Her paintings, sensuous linear gestures glide across the surface until abruptly they collide with the unexpected. In her photography as well as her sculptures, one finds images, cobbled bricolage of detritus, found and fabricated objects, playful yet pointed exist as simultaneously humorous and grotesque.

SOLO EXHIBITIONS
2016 Pernicious Beauty- K. Imperial Fine Art, San Francisco, CA
2015 Lush Life N'Namdi, Contemporary Miami, Miami, FL
2013 Chasing the Light - Sears Peyton Gallery, New York, New York
2012 SACI Gallery Florence, Italy
2009 G.R.N'Namdi Gallery, Chicago, IL
2007 Stewart Gallery, Purdue University
Wright State University, West Layfette, IN
2005 Sears Peyton Gallery, New York, NY
2004 G.R.N'Namdi Gallery, Detroit, MI
2001 G.R.N'Namdi Gallery, Chicago, IL
1999 ARC Gallery, Chicago, IL
1999 Housatonic Museum of Art, Bridgeport, CT
1998 Diggs Gallery, Winston-­Salem, NC
1997 The College of Saint Rose, Albany, NY

SELECTED GROUP EXHIBITIONS
2018 State of Abstraction, Washington Art Association & Gallery,
Washington Depot, CT
Parallel Practices, The Visual and Performing Arts Center, Western CT State University, Danbury, CT
MONSTERS among/within Hans Weiss Newspace Gallery, Manchester Community College, Manchester CT
Magnetic Fields, Museum of Fine Arts St. Petersburg, FL
2017 Decades of Change, Art Space, New Haven, CT
Stacked, Kathryn Markel Fine Arts, NYC
Magnetic Fields, Kemper Museum of Contemporary Art. Kansas City,
MO
Magnetic Fields, The National Museum of Women in the Arts,
Washington, DC
2016 Surface Work, Real Art Ways, Hartford, CT, curated by David Borawski
The Tide Is High, Governors Island NY
2015 Interwoven, Mead Museum, Amherst College, Amherst, MA
2014 Art in the Embassies, American Embassy, Paris, France
ART FUSION/ Art Basel. N'Namdi, Miami, FL
Window Seat N'Namdi, Miami, FL
2013 Abstraction, N'Namdi Contemporary, Miami, FL
2012 Float- Sears Peyton Gallery, NY, NY
Hidden Essence G.R.N'Namdi Gallery Chicago, IL
N'Namdi Contemporary Miami, FL
2008 Connecticut Biennale Mattatuck Museum, Bridgeport, CT
Contemporary Printmaking. The Rye Text Messages: Words
and Letters Arts Center Rye, NY
Abstraction Updated, G.A.S.P Gallery, Brookline, MA
More Than One: Prints and Multiples, Vanderbilt University
Nashville, TN
Stories and Histories. Faulconer Gallery, Grinnell College, Grinnell, IA
2004 Conflicting Memories, Spencer Museum of Art, Lawrence, KS
2002 The Belles of Amherst: Contemporary Women Artists in the Collection
Mead Art Museum, Amherst, MA
Words of Vision/Vision of Words CT Commission on the Arts,
Hartford, CT
2000 Revisiting Abstraction, LewAllen Contemporary, Santa Fe, NM
1996 The Eighth Triennial, Fuller Museum of Art, Brockton, MA
Translucency, Mary Porter Sesnon Gallery, University of CA., Santa
Cruz, CA
1995 New American Talent, Museum of South Texas, Corpus Christi
Alabama Impact: Contemporary Artists with Alabama Ties, Mobile Museum of Art, Mobile, AL, and The Huntsville Museum of Art,
Huntsville, AL
1991 9 Artists/9 Visions: DeCordova Museum, Lincoln, MA

AWARDS
2007 Banff Creative­ Residency Program Grant
2006 Women's Studio Workshop Residency Grant
University of Connecticut School of Fine Arts Outstanding Faculty
Award
2005 Center for Contemporary Printmaking Residency Fellowship
2002 The University of Connecticut Chancellor's Research Fellowship
William Randolph Hearst Artist and Writers Creative Arts Fellowship,
American Antiquarian Society
2001 Nexus Press Artist Book Project Residency Award
Visual Studies Press Artist in Residency Award
Louise Comfort Tiffany Foundation Nominee
1997 John Simon Guggenheim Foundation Fellowship
1996 New England Foundation for the Arts Regional National Endowment
for the Arts, Individual Artist Grant
Joan Mitchell Foundation Nominee
Juror's Merit Award, New American Talent: Laguna Gloria Museum
1995 Louis Comfort Tiffany Foundation Fellowship Nominee
1991 Connecticut Commission on the Arts Individual Artist Grant
1988 Yale University Visiting Faculty Fellow
1985 YADDO Fellow
PERMANENT COLLECTIONS
The Kemper Museum of Contemporary Art, Kansas City, MO
Museum of Fine Arts, Boston, MA
United States Embassy, Yaoundé, Cameroon, West Africa
Birmingham Museum of Art, Birmingham, AL
Snite Museum of Art, University of Notre Dame, Notre Dame, IN
Detroit Institute of Art, Detroit, MI
Samek Art Gallery, Bucknell, University, Bucknell, PA
Allen Memorial Museum of Art, Oberlin College, Oberlin, OH
Fine Art Museum Western Carolina University, Cullowhee, NC
Hallmark Cards, Inc. Kansas City, MO
Hunter Museum of American Art, Chattanooga, TN
Spencer Museum of Art, University of Kansas, Lawrence, KS
Figge Museum of Art, Davenport, IA Cedar
Davison Art Center, Wesleyan University, Middletown, CT
Rapids Museum of Art, Cedar Rapids, IA
Baltimore Museum of Art, Baltimore, MD
Columbia Museum of Art, Columbia, SC
Vanderbilt University Museum, Nashville, TN
Montgomery Museum of Art, Montgomery, AL
Grinnell College, Grinnell, IA
Mead Art Museum, Amherst College, Amherst, MA
Caesars Palace Hotel, Las Vegas, NV
Bellagio Hotel, Las Vegas, NV.
General Electric Company, Fairfield, CT
Chemical Bank, New York, NY Pepsi Co, Ryebrook, NY
Meditech Corporation, Cambridge, MA
Southern New England Telephone, New Haven, CT
Aetna Life Insurance Company, Middletown, CT
SELECTED PUBLICATIONS AND REVIEWS
The Paris Review,
June 22, 2017, The Bookness of Not-Books, Albert Mobilio
ARTPULSE Magazine Vol. 7 2015,
Deborah Dancy: Between Abstraction and Representation, Jeff Edwards
The Drawing Center, Emmie Danza ,
June 26, 2013, Deborah Dancy, Chasing the Light, SearsPeyton Gallery
The Willimantic Chronicle
, Terese Karmel, November 2008, A Convergence of Art and Music
Art New England
, Cynthia Farnell, October/November 2005, Speaking Volumes Univ. RI
Hartford Advocate
, Patricia Rosoff, July 15, 2004, Small Vistas, The 10-Year Show at 100 Pearl
Hartford Advocate
, Patricia Rosoff, July 5,2004, Finding One's Self
Holleley, Douglas.
Digital Book, Design and Publishing
, Cary Graphic Arts Press, Rochester Institute of Technology, 2000
Connecticut Review
, Fall 2000, The Practical Speller
Art New England
, June/July 2000, Pat Rosoff, Abstraction, Central Connecticut State University
Art New England
, October/November 1997, Lois Tarlow, Deborah Muirhead's Ghostly Vision
Hartford Advocate
, October 9, 1997, Patricia Rosoff, Variety is the Spice of Life
Art New England
, Joyce Chen, February/March 1997, Fuller Museum of Art
ArtsMedia
, Jeff Perrott, January/February 1997, The Eighth Triennial Exhibition
Art New England
, Francois Hugot, June/July 1996, Lenore Gray Gallery, Muirhead, Reddicliffe: Paintings
Time Capsule
: A Concise Encyclopedia By Women Artists, S.O.S International, edited by Robin Kahn, NY
Art New England
, Michael Rush, April/May 1996, Connecticut Invitational
The New York Times
, William Zimmer, April 28, 1996
Gumbo Ya Ya: Anthology of Contemporary African American Women Artists
, 1995, Midmarch Publication, NY
Art New England
, Michael Rush, August/September 1995, 3 Connecticut Artists Transform the Ordinary
The New York Times
, William Zimmer, April 16, 1995, Three in Search of the Spiritual
The Art of Seeing, 3rd Edition
, 1993 Mary Pat Fisher, Paul Zelanski, Calmann & King Limited, London
The Hartford Courant
, Owen McNally, Painter Muirhead Peers Through A History, Darkly
Color
, 1994, Mary Pat Fisher, Paul Zelanski, Calmann & King Limited, London
Hartford Advocate
, September 24,1992, Susan Wadsworth, Hooked: Deborah Muirhead at Trinity
The Boston Globe
, Friday, June 28, 1991, Christine Temin, DeCordova has 9 Artists
The New York Times
, Sunday, April 14, 1991, William Zimmer, Connecticut Biennial
Art New England
, February 1991, Susan Wadsworth, Spirit Calls
The New York Times
, Sunday, May 2,1989, Vivian Raynor, Stamford Museum
Art New England
, May 1989, Jude Schwendenwein, Spirit in the Wood/Paint
The New York Times
, Sunday, February 26,1989, Vivian Raynor, Spirit in the Wood/Paint
Art News
, Summer 1988, David Bonetti, Boston: A Baker's Dozen
The Boston Globe
, Thursday March 31,1988, Christina Temin, Deborah Muirhead Solo Exhibit Liz Harris Gallery
A Tarde, Bahia, Brazil June 8,1987, Artista Americana Estuda as Manifestacoes Baianas
New Britain Herald Review
, December 1987, Dorothy Spears, Connecticut Now Abstract Painting
Hartford Courant
, December 1987, Matt Damsker, Three Artists Open the Gap Between Mystery and Reality
The New York Times
, Sunday August 10,1986, William Zimmer, The Aetna Collection
GALLERY REPRESENTATION
K.Imperial Fine Art San Francisco, CA
Sears ­Peyton Gallery, New York, NY
N'Namdi Contemporary, Miami, FL
Robischon Gallery Denver, CO